Cirilla Fiona Elen Riannon Alternative Outfit Deluxe Bonus Version Witcher 3 Wild Hunt 1/4 Statue by Prime 1 Studio
Manufacturer:
Product SKU: P1SPMW3-10DXS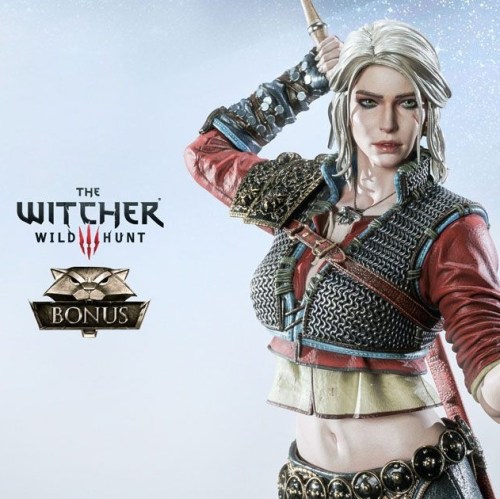 Cirilla Fiona Elen Riannon Alternative Outfit Deluxe Bonus Version Witcher 3 Wild Hunt 1/4 Statue by Prime 1 Studio
Shipping Estimate
Applies to this product only
Description
"Hatred and vengeance blinded me...But I shall stand before them in humility. I shall remember the expression in their eyes. I hope the memory of those eyes will stop me making a similar mistake."
Ciri is most definitely "on thin ice" in this riveting 21-inch statue from Prime 1 Studio! We are incredibly proud to reveal the next addition to The Witcher III: Wild Hunt statue line: The 1:4 Scale Cirilla Fiona Elen Riannon Deluxe Bonus Version - Alternative Outfit!
Taking its cue from Zerrikanian fashion, Ciri's Alternative Outfit is one of the best in the game. It sports upper body chainmail to protect her torso during sword-swinging fights, more than a white blouse could, at least! The talented artists at Prime 1 Studio made every effort to reproduce this favorite-among-favorites with exacting beauty and fidelity. You can see this in the delicate filigree of her pauldron and kneepads and the fine scrollwork of her loincloth. With her piercing emerald green eyes, the Elder Blood Prodigy is as beautiful as she is deadly, already unsheathing her sword for the fight ahead.
The Deluxe Bonus Version comes with two (2) sets of Swappable Arms to extend your storytelling. Her right arm can either be drawing her trusty sword, Zireael, or already holding it out. And her left arm is ready to block up or down! Moreover, if you order from Prime 1 Studio's online store and authorized dealer, Ciri will come with a fifth swappable arm: it features her left hand clutching the iconic Cat School Medallion she lifted from the corpse of Leo Bonhart!
Ciri stands at the ready on an elaborate frozen environment reminiscent of the On Thin Ice quest, complete with a dynamic splash of clear resin water and a surprise Easter Egg from Caranthir!
Whether you already have Ciri in her default outfit and want a change of looks, or you wanted to add another Deluxe Version The Witcher statue to your collection, now is the time to act and pre-order today!!!
Product Specifications:
- Size: 55 x 33 x 34 cm
- Size with sword: 51 x 33 x 34 cm
- Two (2) Swappable Left Arms
- Two (2) Swappable Right Arms
- The Witcher 3: Wild Hunt-themed On Thin Ice Base
- One (1) Swappable Left Hand holding Cat School Medallion [BONUS PART]
Limited Edition.
Please note: Due to the size of this item, additional shipping costs may apply.