Dante Standard Version Devil May Cry 3 Ultimate Premium Masterline Series 1/4 Statue by Prime 1 Studio
Manufacturer:
Product SKU: P1SUPMDMC3-01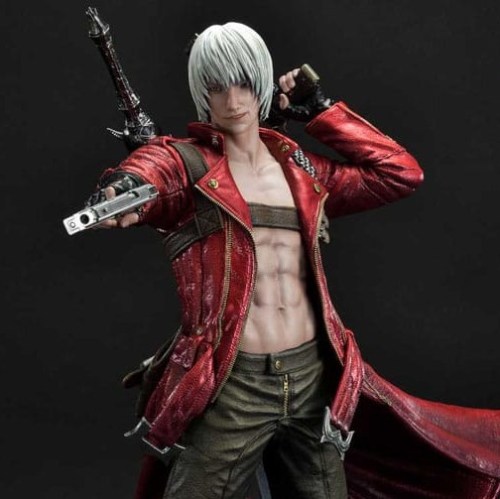 Dante Standard Version Devil May Cry 3 Ultimate Premium Masterline Series 1/4 Statue by Prime 1 Studio
Shipping Estimate
Applies to this product only
Description
"You're just a demon brat! And I'm a son of Sparda!"
Prime 1 Studio is very proud to present yet another masterful entry to the Ultimate Premium Masterline Series: the 1:4 Scale UPMDMC3-01 Dante from Devil May Cry 3: Dante's Awakening.
Following Devil May Cry 5's critical success, it comes as no surprise that Prime 1 Studio would keep on delivering fans another massive favorite. Let us take you on a stroll down memory lane, introducing Dante in all his glory from the series' third title from the nostalgic era of the PlayStation 2.
Prime 1 Studio's artists have once again done a marvelous job at bringing life to the Nephilim in stylish and rebellious aesthetics that we've all known so well for almost two decades. Standing proudly at 26 inches tall, Dante's in his younger years, iconic long, untamed white hair cascading down his face and contrasting with his gleaming, piercing eyes. His face reflects a carefree and cocky expression, conveying his devil-may-care attitude! The young devil hunter shows us his muscular physique while dual-wielding pistols, Ebony and Ivory, ready to unleash a storm of bullets at a moment's notice. Strapped to his back is his faithful weapon, the massive magical blade known as Rebellion. His deep crimson coat billows dramatically, adding a sense of flair to the statue, textured and shaded to perfection, each zip and stitch has been carved with the highest level of skill. At his feet lays bloodied remains of some poor demon who's met its doom.
You can expand your storytelling with the numerous swappable parts included in the statue. A swappable left-hand part to wield the Rebellion over his shoulder. Another swappable head part for an alternative facial expression, as well as a swappable right-arm part pointing his gun outwards. Everything you need to perfectly display Dante on his own, or paired with his brother Vergil, as shown in the Next Level Showcase, a companion piece that will be up for pre-order very soon!
Capture the essence of Dante's iconic demon-slaying style with this meticulously crafted statue. A must-have for passionate Devil May Cry fans seeking to showcase their devotion to the legendary demon hunter! Pre-order the UPMDMC3-01 Dante now and be on the lookout for his brother Vergil in the near future!
Specifications:
- Devil May Cry 3-themed base
- Two (2) Swappable head parts (Normal head & dual display head)
- Two (2) Swappable left-hand parts (Holding gun & holding sword)
- Two (2) Swappable right-hand parts (Pointed forward and dual display arm)
Materials:
Polystone and other materials
Product Size Approx:
H:67cm W:36cm D:48cm
H:67cm W:54cm D:50cm (Dual Display Pose)
Package Weight Approx:
About 13.8 kg
Please note: Due to the size of this item, additional shipping costs may apply. Apart from your location, the actual package size and weight is needed to determine those costs. Both are unknown at this point and may not be available until the product arrives in our warehouse.
ⒸCAPCOM CO., LTD. ALL RIGHTS RESERVED.