Vergil Devil May Cry 4 Premium Statue by Darkside Collectibles Studio
Manufacturer:

DarkSide Collectibles Studio

Product SKU: DSC-DMC-02
Description
Darkside Collectibles StudioTM presents Vergil from the legendary video game , Devil May Cry 4: Special Edition
Vergil is the son of the human, Eva, and the demon, Sparda. This makes him a half-demon by birth. He is the elder twin brother of Dante and the father of Nero. Most recognise him as one of the most fearsome and supreme characters from the long-running Devil May Cry series.
Vergil and Dante parted ways after losing their mother as children. Dante embraced his humanity while Vergil buried the light, adopting the more malevolent side of his demonic heritage. And yet, as cold and calculated as he appears, Vergil shuns the use of cheap tricks, dirty tactics and (especially) firearms, deeming them foolish and unworthy of a true warrior.
He craves power above all else but will not fight without honour. His steadfast fearlessness is further honed by Yamato, the weapon that completes his iconic silhouette. This dark-forged katana was left to him by his father Sparda, who bore the title of Legendary Dark Knight. Yamato's power allows its blade to slice through flesh and dimensions alike, and in the hands of Vergil, one perfectly timed Judgment Cut is often all it takes to shatter a foe's resolve.
The Artisans of Darkside Collectibles StudioTM bring their unparalleled mastery of art, engineering and craftsmanship to the Devil May Cry series, proudly displaying the bold essence of Vergil in a highly detailed statue from Devil May Cry 4: Special Edition.
His signature blue coat has been sculpted with stunning accuracy. Details include the serpentine pattern that runs around the collar, the snake head that hangs over the left shoulder and the gold blossom pattern that adorns the inner lining. From head to toe, this Vergil statue has been faithfully crafted to the highest quality.
Presented with a defiant look, Vergil stands tall holding his weapon of choice, Yamato. This katana comes with a secondary display option, allowing Vergil to hold the sheathed Yamato in one hand while brandishing Force Edge in the other. This is the second statue in the Darkside Collectibles Devil May Cry Series.
Its spectacular finish can be viewed from any angle and it stands as the definitive centrepiece for the most dedicated Devil May Cry fan.
Specifications:
Limited Edition TBD
Features:
• One (1) Right arm holding Yamato Katana.
• One (1) Left arm holding Yamato scabbard.
• One (1) Right arm holding Force Edge word.
• One (1) Enemy mask.
• One (1) Certificate of Authenticity.
License: Devil May Cry.
Type: Polystone Statue and other materials.
Manufacturer: Darkside Collectibles Studio.
Scale: 1/4 statue.
Product Size :
H: 51 cm (20 inches)
L: 34 cm (13,4 inches)
D: 37 cm (14,5 inches)
Product Weight : 10 Kg aprox.
Box Dimensions: TBD
Artists: The Darkside Collectibles Studio Design and Development Team
CAPCOM CO., LTD. 2021 ALL RIGHTS RESERVED.
2021 E.M.A Legendary Collectibles Group Ltd / Darkside Collectibles Studio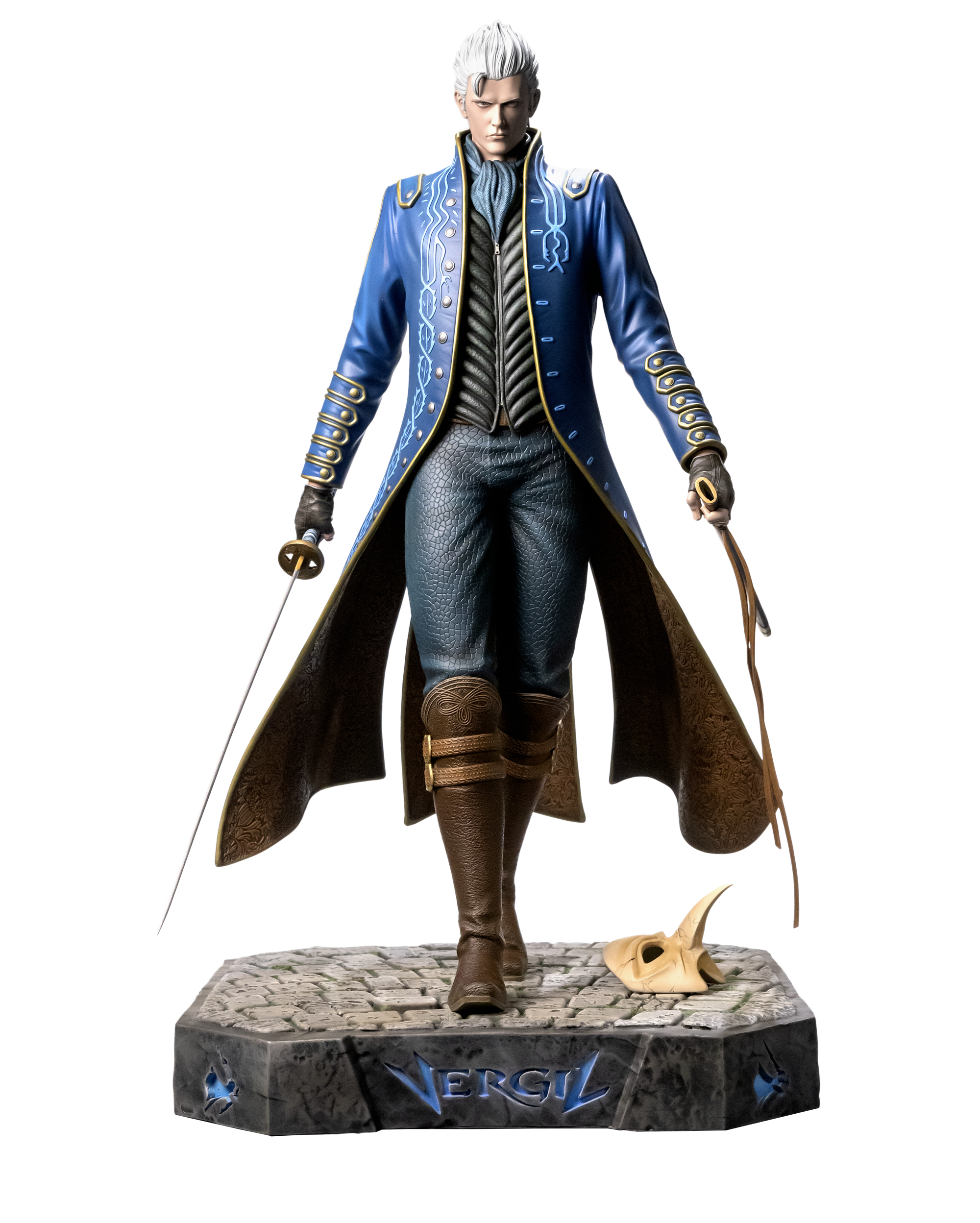 Prototype sample shown. Product details could be subjected to change without further notice.